Md. Shahriar Omar Faruque, Cert CII(UK)
Principal, Pragati Training Institute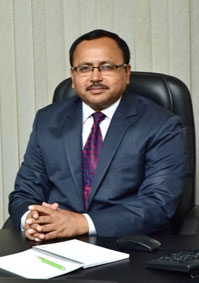 Mr. Faruque has more than 23 years of experience in the life insurance sector and its corporate training. He has  gained a huge experience on Business Development, Development Administration, Underwriting, Servicing, and Training throughout the country. Throughout his professional life, he displayed spectacular success in achieving loyalty from the field level employees and executives.

Mr. Faruque completed his bachelor(Hon's) and master's degree on Accounting from earlier Jagannath  University College under the University of Dhaka, Bangladesh. He started his career from Delta Life Insurance Company Limited in 1994. Professionally he has achieved Cert CII degree from the Chartered Insurance Institute (UK) and he is also a member of this Institute. He attended 21 training, seminar, and workshops on various topics from different institutes and organizations amongst them 5 (Five) were from International Labour Organization-ILO's Impact Insurance Facility (IIF), Geneva, Switzerland. He received ToT from the Chartered Insurance Institute (UK). Mr. Faruque also works as external resource trainer in different training institute including the Insurance Development and Regulatory Authority (IDRA). He is an excellent presenter and a motivational speaker.