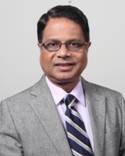 Syed M. Altaf Hussain, son of Syed M. Wares Ali was born in a respectable Muslim family in 1954. He has been involved in Trade, Commerce, Agri-Business and Industries since the beginning of his career in 1978.

He graduated from UTA (Texas), USA with focus on Agribusiness. Currently he is the Chief Executive Officer of W & W Grains Corp. representing Cargill Inc., USA in Bangladesh, The world's largest privately held Company. W & W Grains and Cargill inc. of United States joined their hands together to deliver highest quantity of Agricultural produce mainly food grains and crop nutrition to Bangladesh.

Mr. Altaf was associated with Agro-based Industries & Technology Development Project, (ATDP-II), sponsored and funded by USAID, as advisor of the project on behalf of Cargill Technical Services Inc. USA. He has played a great role in the process of agricultural growth in Bangladesh. He attended a short course on agribusiness in Harvard University, USA.

Presently he is the Chairman of United Petro-Chemical Ltd., Sonic Allied Industries Ltd. WW Avion Tours & Travels Ltd and. also the Chairman of editorial board of the Daily Janata, a national daily news paper. He also Director of Pragati Insurance Ltd., Founder Chairman & Director of Pragati Life Insurance Ltd. where he is also the Member and convener of the Directors Finance Committee of Pragati life Insurance Ltd. & Co-Chairman & Director of Jamuna Resort Ltd.

Mr. Altaf is an extensively traveled person. He visited many countries across the world North America, Europe, Australia, and Eastern Europe & Asia. He has earned name and fame in business community for his honesty, integrity, dedication, hard work and high degree of sense of responsibility.